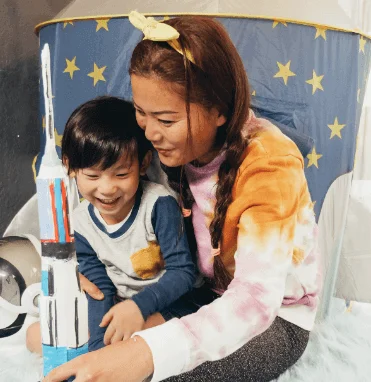 Are you a single parent who dreams of owning a home but nervous that you'll encounter too many challenges? We've got good news for you! There are home buying assistance programs that can help you purchase a home.
If you're a single mom or dad who wants to buy a house, we're here to list some loan programs that might work best for you.
Best Loan Programs for Single Moms and Dads
Single parenthood often means having a tighter budget, so a loan program with looser eligibility requirements is typically your best bet.
Fortunately, various loan programs are designed for lower-income homebuyers –many of which offer low down-payment options.
Here are some of the best loans programs to help fund single parents' home-buying journey:
FHA Loans: Federal Housing Administration (FHA) loans are government-insured and fairly easy to qualify for. First-time home buyers are usually attracted to this type of loan because of its low down payment of 3.5%, low monthly loan insurance, and availability to individuals with credit scores as low as 500.
VA Loans: If you're a veteran, active US military member, or an eligible surviving spouse, a VA loan could be the best choice for your new home.
VA loans offer extensive money-saving benefits and services that first-time borrowers will find appealing, such as no mortgage insurance, zero down payment, low-interest rates, and more. This means you can purchase a house with little to no savings with zero penalties.
Credit score requirements differ per lender and range from 580-660. This is one of the best loans available if you're eligible for one.
USDA Loans: The U.S. Department of Agriculture, also known as USDA, offers a variety of loans to help single parents with low and moderate incomes in rural areas.
But, "rural" can be a loose term because many ZIP codes in the U.S. qualify as rural, which includes many regions surrounding popular, urbanized cities.
USDA loans have zero down payment requirements, low-interest rates, and the mortgage insurance premium is lower than FHA loans. USDA loans have income caps, so ask your lender to check if your income meets the qualifications.
Conventional Loans: Conventional loans are very common. This type of loan is best suited for salaried employees or consistent earners with a good credit score and some savings. Conventional loans can offer down payments as low as 3% if it's your first time purchasing a house.
Which Loan Program is the Best for You?
It depends. The best low-income loans for single parents vary based on your circumstance and prospective property. In order to get the best deal available, you should consult a mortgage professional to help weigh your options.
Reach out to us by dropping a line or sending a message on our website.